5 Ways to Reduce Accounting Errors for Your Business
November 5, 2021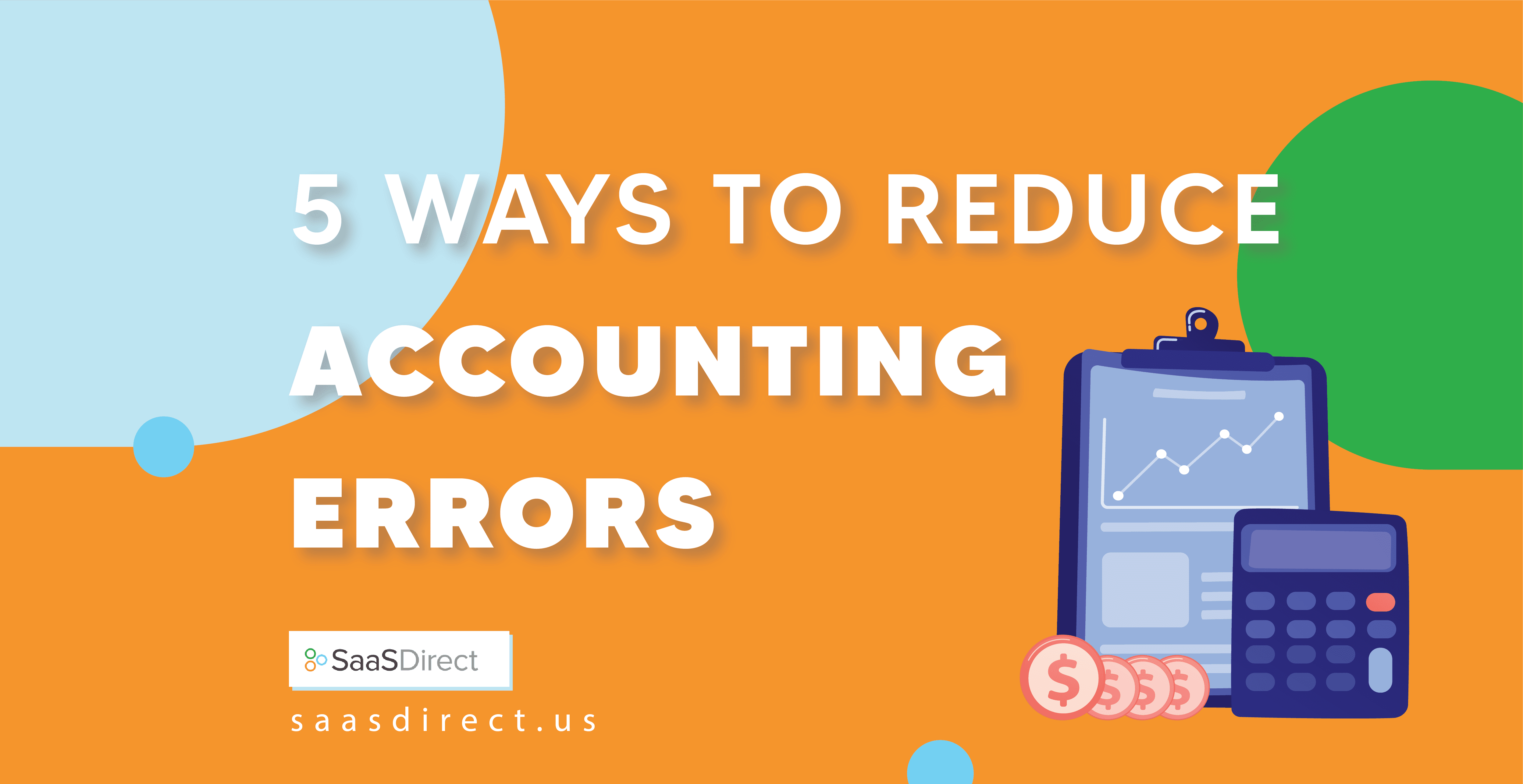 November 5, 2021
Your accounting is the backbone of your business, keeping everything in order and making sure you know where your money is going, and coming from. Even the tiniest of errors could throw the long-term accuracy of your books into disarray.
However, it is very hard to track every dollar that comes in and out of your business. Even if you can, how do you know that you are taking all the steps necessary to verify the data is correct and that you haven't missed anything?
The stress from this alone can be paralyzing.
But the answer isn't to do nothing. Instead, you need to be proactive and take some steps to ensure you are reducing, and ideally eliminating accounting errors for your business.
1. Hire an Expert
Accounting errors are inevitable when you rush to add information. Even small errors can affect the accuracy of your financial documents and render subsequent interpretations useless. The best way to avoid accounting errors is to hire a local accountancy firm to manage your finances – especially if they are qualified and experienced.
2. Keep Them Updated
Don't let a day go by where your books aren't updated. Imagine the stress of discovering problems weeks or months after the fact; a problem that may be affecting multiple areas of your books.
Keep them updated regularly and make sure your books show every transaction from the small to the big. If it happened in your business, it should be on your books.
3. Save Everything
While it can be annoying to have papers piling up in every corner of the office and filling up filing cabinets, keeping your receipt and bank statements is one of the best ways to reduce accounting errors and reconcile books.
A general rule of thumb is to hold on to your records for at least three years. If the IRS wants to audit your business, they will ask for proof of the numbers recorded in your books, and those receipts and bank statements will be essential.
4. Create Solid Budgets
If you start with a plan, you'll be more likely to follow it, and this is a good way to reduce accounting errors. Outlining a budget with revenue, expenses, and profits based on past data will increase accuracy and reduce errors in future accounting.
Notice a big outlier on your books because it doesn't fit the budget you initially set for your business? Check it out now, and fix the error quickly if there is one.
5. Use Software
Let's face it, time is precious. You need to take back more of it. But how?
Use accounting software.
This may seem obvious in the digital era we live in, but if you are spending hours on your books, then you probably don't have accounting software, or you don't have the right accounting software.
The ledgers of the past are now relegated to the past, and relying solely on an accountant is never a good idea and can be costly. To track incoming and outgoing funds, keep an updated account of your accounting using advanced software for small businesses like QuickBooks.
The software allows you to record transactions quickly, automate your accounting, generate reports, create and send invoices, calculate balances, and way more. Most importantly, it will take some of the stress of accounting errors off your mind.
Data entry errors are common and simple to correct, but they can create chaos in multiple areas of your books if you are not careful.
Inaccurate books, inadequate profit reporting, and numerous other accounting errors can cause companies to lose control of their business finances. Many small businesses do not catch many accounting errors because they depend on old-school methodologies or outdated systems like Sage. Small businesses must carry out regular audits to check accounting errors in their spreadsheets and errors that their software might have overlooked.
Eliminate Errors Now
Human error in data entry is one of the most common causes of unnecessary loss of money.
By maintaining a robust accounting platform, small businesses can ensure that simple errors in data entry do not hinder them from remaining competitive and thriving in their respective industries.
If you do not have a regular accounting process, you should create one in order to detect accounting errors at an early stage and avoid future problems.