Description
New QuickBooks POS (Point Of Sale) Version 19.0
Enjoy an exclusive demo for the advanced version of QuickBooks POS for your business. Explore how QuickBooks helps you manage your sales, inventory, tracking, reporting, and much more. All while saving you lots of time and money.  
Adapt To The New Way Of Doing Business
Rely on Intuit QuickBooks POS 19.0 (2020) for easy access to the information that matters most. Intuit QuickBooks POS for retail stores is designed to be cost-effective, easy to use and a great way to boost your bottom line. View your business at a glance with inventory, sales and customer data at your fingertips.
Provide safety and security with contactless payments
Process transaction quickly with QuickPick Menu
Customers enjoy a fast and easy experience
Offer cashless experience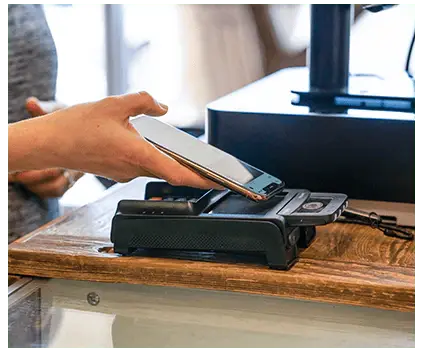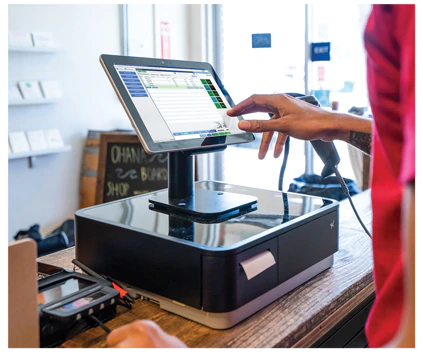 QuickBooks POS Payment Processing
Sleek new touch screen tablet allows you to have a professional look to help your brand.
The tablet helps you be mobile with in your business to check inventory or take sales orders anywhere.
One system will process and accept Apple Pay, Google Pay, contactless credit cards, EMV credit and debit cards as payment methods
Save time with multi-tasking, sorting, and shortcuts features
The touchscreen tablet gives you the ability to check inventory, and make transactions anywhere with mobile payments
Integrates with QuickBooks Desktop
QuickBooks POS Advanced Technology
QuickBooks New redesigned POS system covers less space letting you do more, with its its sleek look it help portray a professional image.
New enhanced options and features to provide better customer service.
Different color choices to suit your needs
Expanded tablet option to go mobile
Universal stand(hardware sold separately )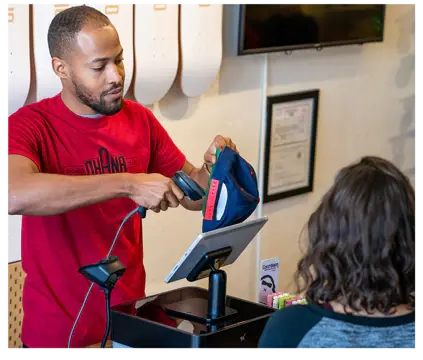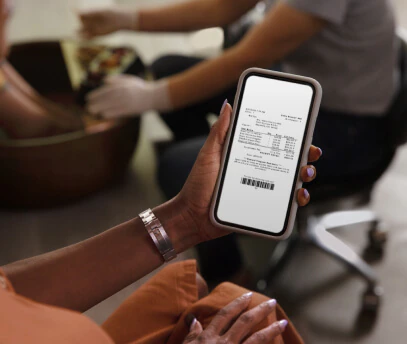 With the Save & Email feature you can simply send a customer their receipt directly to an email address.
Offer paperless receipts to your customers.
Great way to manage contactless interactions
Reduce cost on paper receipt rolls
Integrate With eCommerce Platforms
QuickBooks POS helps transfer online sales data seamlessly with eCommerce integration.
No Need to deal with multiple platforms – easy to setup
We are able to sync with multiple platforms including Amazon, Shopify and Ebay.
All information is transferred into QuickBooks for easy accounting.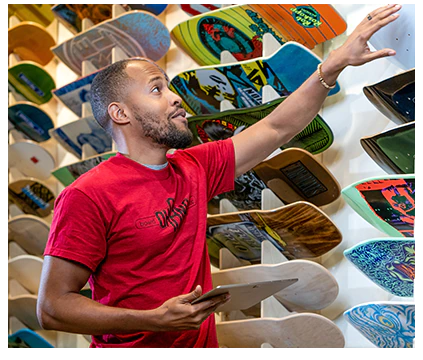 Advanced Inventory Tracking
QuickBooks new Advanced POS Inventory Tracking helps stay on top of your shortages and knowing where your goods are.
Manage and track your product inventory in one platform
never run out of stock.
Use an optional bar code scanner, or enter item names or numbers manually using a PC or tablet.
Get our newest version of QuickBooks POS 19 – Easy To Setup & No Contract If you are starting a starting a new business and need a reliable Point Of Sale solution QuickBooks POS is your answer.
What are the system requirements?


At least 4 GB of RAM for a single workstation installation.
1 GB of disk space (additional space required for data files).
Single user: 2.4 GHz processor (2.8 GHz recommended).
Multiple users: 2.8 GHz processor (3.5 GHz recommended).
Optimized for 1024×768 screen resolution.
Operating Systems:
Windows Server 2003
Windows Vista, all editions (SP2 or later strongly recommended)
Windows Server 2008 (SP1 or later strongly recommended)
Windows 7
Windows 8/8.1
Windows 10
Data import/export and Microsoft Office integration requires:
Microsoft® Excel 2000, 2002, 2003, 2007, 2010, 2013, 2016
Microsoft® Word 2000, 2002, 2003, 2007, 2010, 2013, 2016
Multi-user recommendations:
Multi-core processor and 8 GB of RAM are recommended for better performance on the Point of Sale server workstation.
In a multi-user configuration, each workstation concurrently running Point of Sale must have a separately purchased user license, and every copy of Point of Sale must be the same version and level.
QuickBooks Financial Software integration requires:
Intuit QuickBooks Pro or Premier 2013–2020
Intuit QuickBooks Enterprise Solutions Versions 13.0, 14.0, 2015, 2016, 2017, 2018, 2019, 2020
QuickBooks Payment Account (sold separately).
Optional fee-based service, additional terms and conditions apply.
Requires a QuickBooks Payments account through Intuit Payment Solutions. Application approval and fees apply.
PIN pad required for debit transactions sold separately.
Internet connection required.
Security Software:
Products have been tested with the following software:
– McAfee Internet Security Suite
– Symantec Norton® Internet Security Suite
– Zone Labs' Zone Alarm Pro
– Trend Micro
Note: Some configurations may require that you adjust settings in firewall and anti-virus products to ensure the best possible performance with Point of Sale.
System Configuration Notes:

Disk space requirements do not include company data files. If your company data file is very large or includes item pictures you may need more disk space.
In order to run several applications simultaneously, your system should have a multi-core processor and at least 4GB of RAM. Point of sale will run on both 32-bit and 64-bit processors running Windows. However, not all hardware devices will install and operate on 64-bit operating systems. We recommend that you contact the device manufacturers for more information about installing their hardware devices on 64-bit operating systems.